A Chance to Start Fresh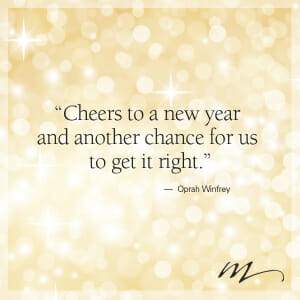 It's 2015! A chance to start fresh and as Oprah says, "another chance for us to get it right."
Did you plan some new year's resolutions? How about adding this one:  "To feel fabulous, find inspiration–and pass it on." We know you are always taking care of everyone else and rarely take time for yourself. Here are some reminders for 2015!
Take time for yourself.
Appreciate yourself.
Be in the moment.
Pause and take deep breaths.
Cherish each day.
Set intentions for each day.
Sleep in once in awhile.
Practice random acts of kindness.
Pamper yourself.
Do what makes your soul happy.
Be kind.
Tell us about one of your resolutions in the comments below!